Story About Us
EVERYONE. EVERYWHERE.
EQUAL VALUE.
Dream Girlz is a 501(c)3 non-profit organization designed to Educate, Empower, & Encourage girls from 8 to 18 as they develop themselves for success.  We encourage every girl to D.R.E.A.M. …..
Be Dedicated, Responsible, Educated, and have an Attitude of Motivation to reach her goal.
Dream Girlz is an organization located in Houston, Texas. Since 2017, we have been dedicated to empowering, uplifting, educating, and motivating girls and young women by providing self-esteem enhancing programs. Our programs are fun, but they are also a great way to bond with other young ladies while learning and enhancing important life skills!
Mission
The mission of DREAM GIRLZ is to empower and attract girls that seek to develop themselves for success, while they Dream, Believe, & Achieve.
Vision
To be a resource organization that transforms the life of every girl we encounter.  Our programs focus on (6) main areas of self-development:
Empowerment
Education
Etiquette
Self-Esteem
Inner-Beauty
Health (Mental, Physical, Spiritual)
Research shows that girls who are involved in positive, healthy life skill and self-esteem programs like Dream Girlz have higher grades, are more likely to graduate, experience higher self-esteem, and are less likely to drink, use drugs, or engage in risky behaviors.
Founder
Mathilda C. Montgomery
Mathilda C. Montgomery is a Leader, Social Worker, and Female Veteran Community Advisor. She hosts community empowerment sessions for girls between 8-18 in the greater Houston/Galveston area. Born in Lake Charles, LA, Mathilda knew at an early age her calling was to be a Mentor and Community Leader. Her path to becoming the founder of Dream Girlz Houston took her through 4 years in the United States Marine Corps and a host of volunteer opportunities in the Marine Corps and her community. She earned a B.S. in Sociology from Excelsior College in Albany, NY then went on to earn a Master of Science Degree in Social Work from the University of Texas-Arlington. She is a federal mediator and the Former Commander of American Legion Post 316, the only majority female post in the Houston/Galveston area.
As the mother of one son, she met many of the female classmates of her son and found that many of the young girls seemed to have no direction, were bullying each other, and failed to "own" their power and strength—mentally, spiritually, or physically. This renewed her spirit to begin mentoring girls and the people who care for them. Mathilda believes that the decisions that girls make NOW begin to lay the foundation of their future. Therefore, her sessions focus on empowerment, education, self-esteem, confidence, and self-care… reminding girls to always DREAM! Mathilda believes that DREAMS drive us to take action and motivate us to do the work in our lives and create the future we want. She encourages girls in the community to DREAM, to recognize, believe, & respect their own power…. Through Dedication, Responsibility, Education, Achievements and remaining Motivated to be successful.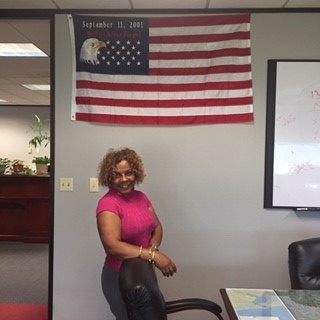 Dream Girlz
Dream Girlz is a 501(c)3 non-profit organization designed to Educate, Empower, & Encourage girls from 8 to 18 as they develop themselves for success.
This organization is run by a veteran.